NOMINATION FOR THE 2021 NOBEL PEACE PRIZE
THE GRAND BOUQUET CANNABIQUE OF HUMAN AND CITIZENS RIGHTS DEFENDERS
#AuChanvreCitoyens!
Laurent Sazy (1968), France, press photographer, cannabis activist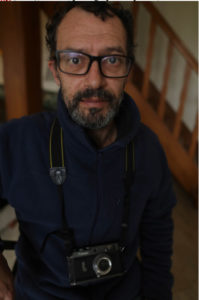 Bio cannabique : Born on the last day of the events of 1968, on the night of the return to work on Monday June 3, Paris 12th district. Education and childhood in Black Africa then back to France in 1981 for college and discovery of the first joints … around 1983-84. Highschool B and BTS studies com & pub, then military service then training in press photography in 1990-91. Reporter-photographer for several French press agencies, covering French and international news, from the Elysée courtyard to the war in Nagorno-Karabakh, or in Bosnia the siege of Sarajevo, Gaddafi's Libya in 2011. I also document a whole work around cannabis, psychedelics, iboga, the plant used in the rituals of Bwiti in Gabon or ayahuasca.
As a teenager, I would rather smoke than drink. I discovered the spleen of hash, literature (Baudelaire, Rimbaud), reggae and folk music, the great psychedelic flights of Doors or Pink Floyd, then techno and ethno music. Adolescence was discoveries, girls, each other's body, love, sex, music, festive products, alcohol, drugs, hash, this product of a plant which allowed me to feel things in a bigger, deeper way, to widen my field of vision, an interior "refuge" also in front of the family pressure of the requirement of success. The rebellious age !
(Bokayé, my book on the Gabonese rite of Bwiti Ngonde-Missoko, branch of soothsayers, forest therapists, traditional practitioners.
Ngenza, ceremony of knowledge, photographic travel diary in the rituals of Bwiti in Gabon with a text by the writer Vincent Ravalec.)
Motivation: With the first volutes of hash, it was something else, a much smarter, more subtle, soft field opened up to me and allowed me to understand the accursed poets (Baudelaire, Rimbaud) and French literature since the end of the 19th until today (Malraux and others) until American writers of the "beat generation. I am from the Flash generation of Charles Duchaussoy or from L'Herbe bleue in France.
Later in my professional life as a reporter-photographer covering the news of wars (Karabakh, Sarajevo, etc.), cannabis has always traveled in my pocket till the end of the world, or always with a need to find it on the spot. A refuge, a means of resting my tension, a souffle to my breathing, an open eye to criticism of the World.
Compared to the weapons and violence of war, plants are the peace of mankind. I can attest to this, my journey being between war and peace.
Ever since I understood how hemp and cannabis have been used and discredited by politicians and oil companies since World War II (end of hemp replaced by plastic) and the 1961 ban on drug use. I understood the role of prohibition, of population control, of the Christian morality of banning plants that open the conscience, etc. I cannot find any harmful effects in cannabis, for me it is used as a medicine for the mind to heal body and soul.
I deeply believe that when the ban on cannabis consumption is over, human relationships in society will be different. Just compare France and some countries that have experienced "legalization or decriminalization" in terms of violence in society! Personally, I am in favor of legalizing all drugs within very specific frameworks.
Started in April 2000 my photo work in Gabon on iboga and bwiti, I discovered iboga and its world, I was initiated in February 2002, one Valentine's Day during photo reporting and the filming of a documentary, another giant step towards an even greater understanding of the world we live in.
The Root of Time! Iboga (its root) is the mother of plants which allows you to See.
With iboga your DNA is in synchronicity with you !
#AuChanvreCitoyens!